going long GDX
---
---
Hello there guest! Want to join in on the conversation? Login or register for a forums account by visiting this link.
---
By Bobwins
Posted: Thursday Aug 13 10:55:09AM 2015
short ride on the option train. GDX reversed hard today. Sold out of all gdx positions today. Overall loss.
Sigh...... back to the drawing boards. Commodities rout ain't done yet. Just close but I can't afford to hold to see if I'm right.
By Bobwins
Posted: Wednesday Aug 12 10:40:54PM 2015
Added more GDX options this week. Gold has been moving up slowly but miners have been moving up much more quickly. Original options cost $855 last Thursday are now worth 2220. GDX was around $13 when I bought the first options, now 15.52.
Nice to see some green after several years of red in the mining stocks. Will it last? Don't know but mining stocks are definitely overdue for a decent bounce.
By Bobwins
Posted: Monday Aug 10 2:22:36PM 2015
Decided after reading this article to buy some call options on GDX maturing in Sept and December 2015. So far so good. Not a lot of money invested here but if GDX rallies $3, I could triple my small bet.
Gold Traders: Get Ready for a Short-Term Rally
By Jeff Clark
Thursday, August 6, 2015
When it comes to trading gold, it pays to watch what commercial traders are doing.

Commercial traders are the so-called "smart money." They're merchants, miners, explorers, or bankers in the gold business. They use futures contracts to hedge their exposure to gold and protect themselves from adverse downside moves.

And right now, the "smart money" says we should expect at least a short-term rally in gold…



Each week, the Commitment of Traders (COT) report shows the positions (long or short) of the largest commercial gold traders.

The short position in gold is almost always a positive number – meaning that commercial traders are usually short the metal. That makes sense since most commercial short positions are hedges against a future decline in price.

For example, if a major gold producer wants to lock in a guaranteed price on its gold production, it will short gold in the futures market – thereby hedging its bet.

When gold is trading at a relatively high level and commercial traders expect it to be lower in the near future, the COT short index often hits near 300,000 contracts.

However, when gold is trading low and commercial traders expect the price to increase, the COT short interest often drops to less than 100,000 contracts.

Last Friday's COT report (which goes through July 28) showed that commercial gold traders were short just 14,000 contracts. This is an extreme low level. And based on history, it's a short-term bullish development.

Take a look…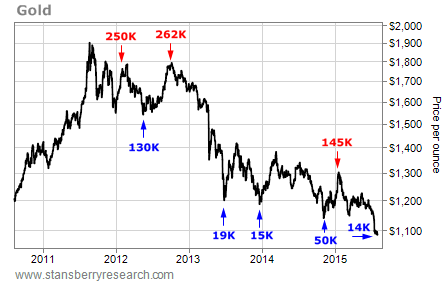 As you can see, the previous extreme low levels of short interest over the past two years marked at least short-term bottoms in the price of gold.

In mid-2013, the commercial trader short interest dropped to just 19,000 contracts. Gold rallied 17% over the next six weeks.

Gold enjoyed a similar rally in early 2014, following a COT short interest of 15,000 contracts.

As of July 28, commercial trader short interest in gold is just 14,000 contracts. That's the lowest level in a decade. And it indicates gold is setting up for at least a short-term rally.

Best regards and good trading,

Jeff Clark